4-H Programs at a Glance
Our programs in science, healthy living, arts, leadership and citizenship are backed by University researchers, our Vernon County Educator, and a robust community of 4-H volunteers and professionals. Through hands-on learning, kids build not only confidence, creativity and curiosity, but also life skills such as leadership and resiliency to help them thrive today and tomorrow.
4-H Programs that Work
4-H programs are available through local 4-H clubs, 4-H camps and school programs. With the support of adult mentors, youth select from a diverse group of projects that help them learn by doing. 4-H programs are available for youth ages 8-19, with Cloverbud programs for children ages 5 to 7.
4-H programs are grounded in the belief that kids learn best by doing. Youth complete hands-on projects in areas like the arts, science, agriculture and technology in a positive environment where they receive guidance from adult mentors and are encouraged to take on proactive leadership roles. Regardless of the project area, all 4-H programs include mentoring and career readiness as core elements.
Did you know 4-H youth are…
4x more likely to give back to their communities
2x more likely to make healthier choices
2x more likely to participate in STEM activities
4-H Youth participate in 5M science projects, 2.5M healthy living projects, and 2.5 citizenship project annually.
Ready to join Vernon County 4-H?
Our county prefers a personal approach. Choose a club near you or that fits your preference and reach out to the club leader OR contact our main, county office for advice or directions. Click on the map of Vernon County to enlarge club meeting locations and names.
After you have settled on a club, head to our registration website, 4-HOnline and register yourself and your youth. We accept members year round, however our 4-H year begins in October, which is the best time to join. It is a $5 donation for each youth, and if they choose to enroll in the horse or shooting sports project, it is $1 extra. If your family needs financial assistance or cannot make the $5 donation, please contact the main office to have that covered.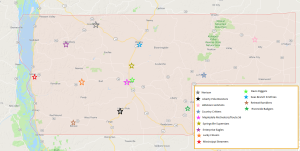 To send an email to the club leader, please click on the club name.
Nerison  : Adrian Wruck     |     Liberty Pole Boosters : Renae Diehl     |     Hillsboro Hotshots : Kari Defliger
Country Critters : Jennifer Miller     |     Mapledale Motivators/ RTE 56 : Debbie Primmer
Springville Superstars : Brenda Torgerson     |     Enterprise Eagles : Jessica Jorstad
Lucky Clovers : Julie Falkers    |     Mississippi Steamers : Stephanie Nicklay    |     Davis Diggers  : Tracey Goltz
Seas Branch Smithies : Jayne Anderson    |     Retreat Ramblers : Jill Jarzemski
Riverside Badgers : Rebecca Gehrke
Content by Wisconsin 4-H Foundation